ASK TOKYO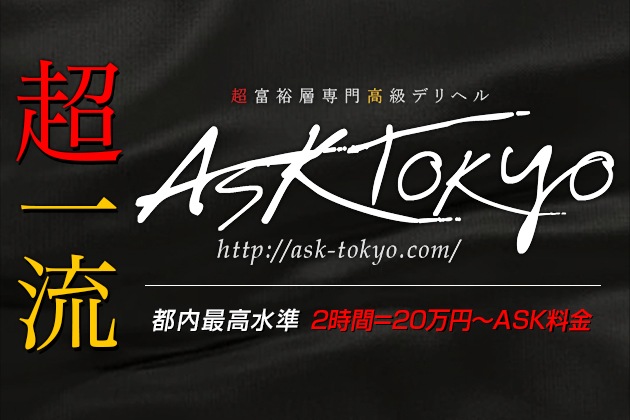 Coupon
Mention about "Tokyo Erotic Guide",First time 90 minutes 150,000 yen

INFORMATION
A first-class woman for a first-class man [ASK TOKYO]
Luxury delivery health industry NO.1
[ASK TOKYO] Reigns at the top of the country
"Spend an elegant time with a sophisticated and beautiful woman…"
We would like to introduce general women who are worthy of superlative names such as actresses, talents, fashion models, and gravure idols.
We will produce the best time with the finest service that is not ashamed of the super first-class name.
The cast is carefully selected with the full strength of our group!
We will fulfill your wishes with the best casting power in the industry.
[Very rare casts are being registered one after another]
No.1 in Tokyo! We are partnering with more than 20 entertainment agencies and production companies.
We can guide you with high probability from celebrities to popular gravure idols and famous sexy talents.
If you are interested in a woman, please feel free to contact us.
SPECIAL CAST 2 hours = ASK fee
Almost any child can attend if it is a gravure model & sexy actress!
100% possible at our store, of course, for women who can attend at other stores!
Besides that, there are many celebrities and celebrities that can only be introduced at our store.
A woman that every man would want to play with at least once in his life,
The encounter with women of a level that cannot be met at other stores is impressive.
Accepts major credit cards and accepts receipts
Settlement fee 10%
We will arrange women in neighboring prefectures around the Tokyo area.
ASK TOKYO, a high-class delivery health service specializing in ultra-rich people
03-5545-1094
At our shop, we do not engage in malicious book-entry acts or double bookings.
Also, there are no low-level women who are unsuitable for a luxury store, so please use it with confidence.