Club BLENDA Shinjuku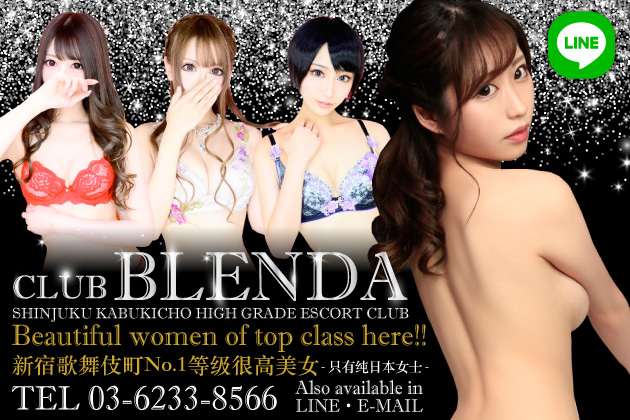 Coupon
You can get discount by telling "I saw Tokyo Erotic Guide" for…
ALL TIME ¥ 3,000 OFF!!
INFORMATION
Shinjuku is full of people from early morning to late evening. Among them, "Kabukicho, a town that never sleeps at night" is famous.
Delivery Health is often among the top in the genre, and within Delivery Health our shop operates as a luxury establishment.
Based on the principle the customer is first, both men and women are working to improve the service level of the staff.
Daily we strive to be called the No. 1 luxury Delivery Health store in Shinjuku, the No. 1 downtown area in Japan.
If you are looking for Delivery Health in Shinjuku, please give us a call first.
We will produce a special night for you.
The top feature of our shop is that you can enjoy playing with hostess and AV actress working in Kabukicho.
It is an establishment where you can have fun on the 60-minute course with a long time hostess for around 25,000 yen.
Service Area
Shinjuku, Shibuya, Nakano, Toshima, Bunkyo, Chiyoda, Minato
Shinagawa Ward, Meguro Ward, Setagaya Ward, Suginami Ward, Nerima Ward, Itabashi Ward
Kita Ward, Arakawa Ward, Taito Ward, Chuo Ward, Sumida Ward, Koto Ward
Ota Ward, Adachi Ward, Katsushika Ward, Edogawa Ward
※Kabukicho and Okubo love hotels are available free of charge.

REVIEWS