Chichi Kuri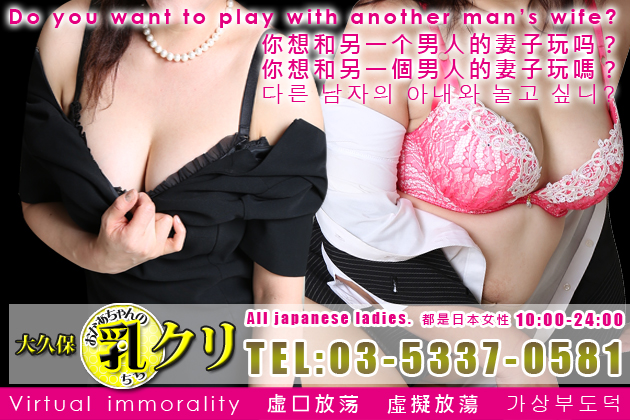 Coupon
You can get discount by telling "I saw Tokyo Erotic Guide" for…
+ 10 min extension ¥free!
INFORMATION
▶About traveling to the hotel
Traveling to hotel along Yamanote line is aviable.
Please contact us for traveling to your hotel on a route other than the Yamanote line.
Transportation fee will be charged separately for some traveling to hotels.
▶About transportation fee
Okubo Station・Shin Okubo Station ¥0
Shinjuku Station・Takadanobaba Station ¥1,000
Other Yamanote line stations ¥2,000
Other routes hotels ¥2,000 ~ ¥3,000
The taxi fee is charged separately for hotels that can not walk from the station. ¥2,000 ~ ¥3,000
Some hotels may not be able to offer services. Please check with staffs of hotels in advance.
REVIEWS