Hatsuiku!Akihabara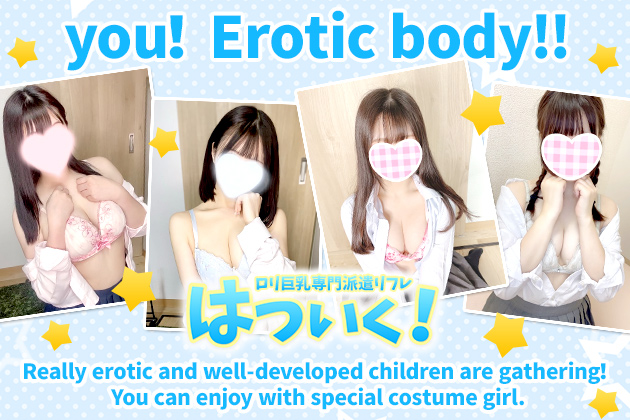 Coupon
You can get discount by telling "I saw Tokyo Erotic Guide" for…3,000 yen off!
INFORMATION
Akihabara's dispatch type refreshment "Hatsuiku!"
Only good girls from "Hatsuiku" have been collected!
All girls are high-level girls!
No matter who you choose, you are sure to have a dreamy time!!
The environment where you can flirt with girls is top class among the many dispatch refre shops!
Of course, we will also take over the familiar cosplay option!
"Swimwear", "micro bikini", and even "nano bikini"?
If a good girl from our shop "Hatsuiku" wears it, its destructive power will make your reason.
There is no doubt that it will collapse!!
※Notes※
・Use and viewing of this site by persons under the age of 18 is prohibited.
・Prohibition of forced sexual services, actions that girls dislike, and actions outside the course
・When forcing services such as touching without paying
・When NG from casting occurs frequently
・Voyeurism
・Cannot be used by competitors (reflation, esthetic salons, tour shops, etc.).
・Prohibition of gangsters, barbershops, hosts, competitors, tattoos, foreigners, scouts, etc.
・Those who are intoxicated
・In addition, prohibition of use by those who are judged to be inappropriate by our store
Please note that if you leave early for the above reasons, the fee will not be refunded.
Our shop is in the following cases
I will definitely charge a fine.
・Eavesdropping, voyeurism 300,000 yen to 700,000 yen
・Rape: 300,000 to 1,000,000 yen
・ If the girl quits due to the above act 1 million yen to 2 million yen
We will strictly deal with violators under the guidance of the police and legal counsel.