Hatsuiku!Akihabara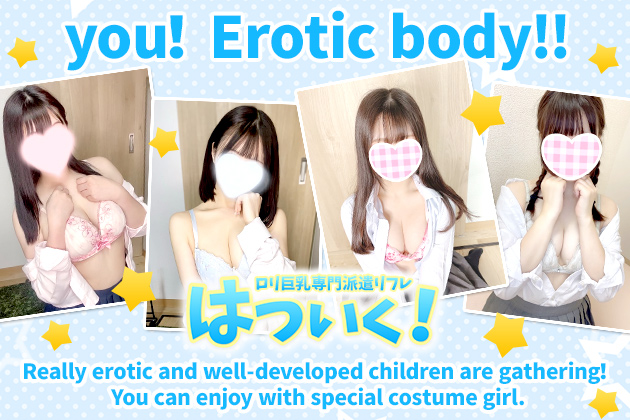 Coupon
You can get discount by telling "I saw Tokyo Erotic Guide" for…3,000 yen off!
INFORMATION
Akihabara dispatch-type refreshment "Hatsuiku!"
We have gathered only good girls at "Hatsuiku!"
All girls are of high standard!
No matter who you choose, you are sure to have a dreamy time!
Among the many dispatch refreshment stores, the environment we provide where you can make out with the girls is one of the best!
Of course, we carry this over to our well-known cosplay options!
"Swimsuits", "micro bikinis", and even "nano bikinis"?
When one of the good girls from "Hatsuiku" puts on the dress, the destructive power of the dress will make you lose your sense of reason.
You will power is sure to disintegrate!
※Important Notes※
・The use and viewing of the site by persons under 18 years of age is prohibited.
・Prohibition of forcing sexual services, conduct that a girl does not like, and conduct other than the course.
・When a person forces services such as touching without paying for them.
・When NG is frequently received from the cast
・Voyeurism
・The use by someone of the same industry (refreshments, esthetic clinics, tour stores, etc.) is not allowed.
・Gang organization, night entertainment, host, competitors, tattoos, foreigners, scouts, etc. are not allowed to use the hotel.
・Drunken person
・Prohibition of use by other people whom we judge to be unsuitable for our store.
Please note that fees will not be refunded if you leave during the session for any of the above reasons.
If you do the following
We will definitely charge you a fine.
・Eavesdropping and spy photography: 300,000 yen – 700,000 yen
・Rape: 300,000 yen to 1,000,000 yen
・If a girl quits because of the above-mentioned acts, 1,000,000 yen to 2,000,000 yen