Imagine Tokyo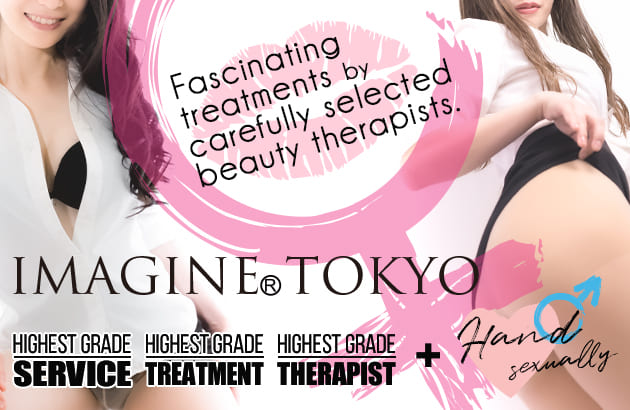 Coupon
You can get discount by telling "I saw Tokyo Erotic Guide" for…
All courses will be discounted by ¥ 1,000 only for the first time.
INFORMATION
《Full-fledged salon technology and glossy and fascinating rejuvenating massages by carefully selected beautiful therapists》
This is a total relaxation therapy establishment that heals the stress and fatigue of your heart and body with the finest techniques of an active Japanese esthetician.
Since it is a NEO sex establishment, there are many beautiful carefully selected women.
Captivating rejuvenation at a full-fledged salon beauty by high-quality women…
The ultimate men's healing esthetics unlike any other … Please come and experience it for yourself.
We are looking forward to seeing you often.
There is plenty of course time available.
In our establishment, the course time does not start to be counted until the start of treatment after all preparation is finished, not from when the therapist enters the room, so that you can sufficiently relax.
With more time than the actual course time, please use us with leisure.
Our establishment is an aroma massage and hand service establishment. It is different from others.
We strongly discourage the therapists from being in underwear / topless, nudity and excessive physical contact.
If excessive treatment is requested of the ladies and as such treatment cannot be performed, treatment will be canceled.
No refunds will be accepted. We ask that you fully understand the service and use it as it should be.
【Travel expenses】
The business trip area is basically Tokyo 23 Wards.
Please ask at the time of request because the price is slightly different in the same ward.
Gotanda / Shinagawa Ward
Free area
Chuo Ward, Minato Ward, Shibuya Ward, Meguro Ward, Ota Ward, Setagaya Ward
¥ 0-3,000
Koto Ward, Chiyoda Ward, Shinjuku Ward, Nakano Ward
¥ 2,000-4,000
Edogawa Ward, Katsushika Ward, Sumida Ward, Taito Ward, Arakawa Ward, Adachi Ward, Bunkyo Ward, Kita Ward, Itabashi Ward, Toshima Ward, Nerima Ward, Suginami Ward, Mitaka City, Chofu City, Musashino City
¥ 3,000-5,000
REVIEWS