Kyou kano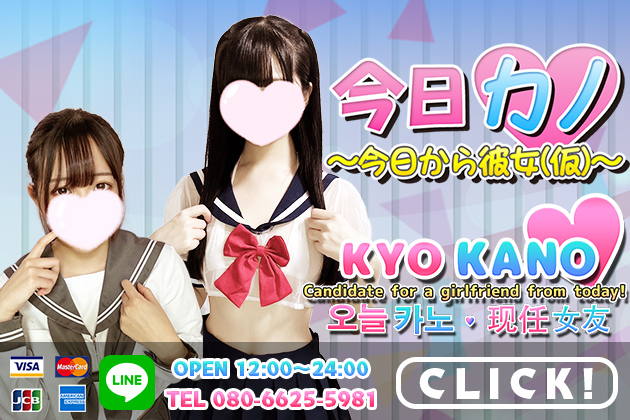 Coupon
Mention about「Tokyo Erotic Guide」,
KyouKano full course
80 minutes 60,000 yen, 120 minutes 100,000 yen special available!
Refer a friend and get a 50% discount!
INFORMATION
Today at Kano, you can spend a relaxing time with your new girlfriend!
There are various ways to enjoy the world, such as JK refre, men's esthetics, body wash, and Lenka date.
But don't you have trouble finding various shops and finding the girl of your dreams difficult?
Therefore, today Kano aims to be a shop where you can experience all of them at one shop!
Enjoy the freshness of dating with a refreshment course!
Enjoy intimate flirting with your girlfriend on the full-fledged aroma men's play course!
Enjoy a sweet and naughty time with a micro body wash and mixed bathing course!
Enjoy a lovey-dovey date with a cute girlfriend on a walking course!
There are endless ways to play! As the boyfriend (customer) wants!
Enjoy a blissful date with your younger girlfriend in a JK uniform today!
※Important Notes※
・The use and viewing of the site by persons under 18 years of age is prohibited.
・Prohibition of forcing sexual services, conduct that a girl does not like, and conduct other than the course.
・When a person forces services such as touching without paying for them.
・When NG is frequently received from the cast
・Voyeurism
・The use by someone of the same industry (refreshments, esthetic clinics, tour stores, etc.) is not allowed.
・Gang organization, night entertainment, host, competitors, tattoos, foreigners, scouts, etc. are not allowed to use the hotel.
・Drunken person
・Prohibition of use by other people whom we judge to be unsuitable for our store.
Please note that fees will not be refunded if you leave during the session for any of the above reasons.
If you do the following
We will definitely charge you a fine.
・Eavesdropping and spy photography: 300,000 yen – 700,000 yen
・Rape: 300,000 yen to 1,000,000 yen
・If a girl quits because of the above-mentioned acts, 1,000,000 yen to 2,000,000 yen