Maria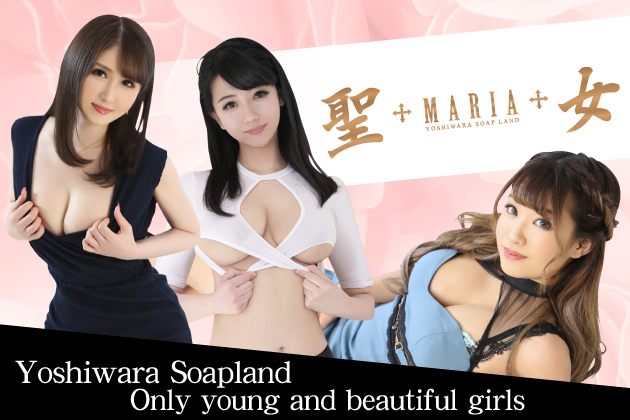 Coupon
Mention about「Tokyo Erotic Guide」, ¥10,000 OFF!
 [Map]

Information
※Thank you for visiting our shop.
We are implementing hygiene control measures for coronavirus infection.
All staffs and girls thoroughly wash hands, gargle, disinfect with alcohol, and measure their body temperature.
In order to play safely, we ask that customers cooperate with hand washing, disinfection, and temperature measurement when visiting our shop.
Yoshihara high-class soapland "Maria" where carefully selected high-level girls are gathered, there are many young casts in their early twenties.
Girls are various types such as students, models, and many of them have attractive personalities such as intelligent and good attitude.
In addition, many of them have beautiful skin as young girls, you will enjoy a good feeling.
In our shop, there are many girls with a slender figure, such as 170 cm tall or more and waist of 50 cm or so, and their youth and individuality will make you feel more attractive.
There are many lewd girls among them, so
Yoshihara Soapland "Maria" allows you to spend intense time with a young and attractive beauty.
There are many girls who are attractive not only in their beautiful appearance but also in their natural attention.
Many girls can talk with a soft smile to men who are nervous for the first time.
You will feel like you are with your lover.
Although they have different personalities such as friendliness, kindness, cheerfulness, and seriousness, the fact that there are girls who can make you feel good together is another feature of our shop.
Yoshihara Soapland "Maria" has a number of girls who are dedicated and willing to help you, so you can spend a fulfilling time.
※ Incall only!
REVIEWS