Mrs. Dandy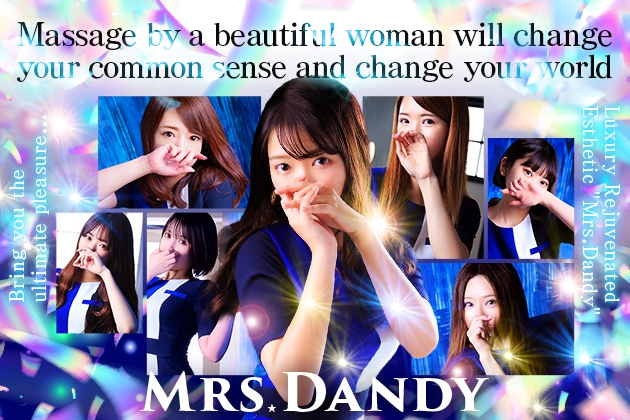 Coupon
You can get discount by telling "I saw Tokyo Erotic Guide" for…
◆◇◆Definitely a bargain! early discount ◆◇
Guidance within the time service hours
if you make a reservation
Information at a special price!
[From 11:00 to 18:00!!]
Time-limited plan for a limited time!
Even more from the GRANDOPEN discount!
◆◇◆1,000 yen OFF◆◇◆
◆◇◆Limited Time!! Happy Time◆◇◆
Dandy Course
60 minutes 20,000 yen→16,000 yen
90 minutes 30,000 yen→26,000 yen
120 minutes 40,000 yen→36,000 yen
150 minutes 50,000 yen→46,000 yen
Special Dandy Course
60 minutes 24,000 yen→20,000 yen
90 minutes 36,000 yen→32,000 yen
120 minutes 48,000 yen→44,000 yen
150 minutes 60,000 yen→56,000 yen
180 minutes 72,000 yen → 68,000 yen
Relaxing flirting in the neighborhood
I want to play for a long time!
A must-see for those older brothers!
However, time is limited!
It may be crowded during happy time.
Please contact us as soon as possible
*This course is for new customers only.
INFORMATION
[Basic system]
Admission fee 1,000 yen
Nomination fee 2,000 yen
Nomination fee 3,000 yen
[Dandy Course]
60 minutes 20,000 yen
90 minutes 30,000 yen
120 minutes 40,000 yen
150 minutes 50,000 yen
180 minutes 60,000 yen
240 minutes 80,000 yen
12,000 yen for every 30 minutes of extension
Dandy Course Option
Micro bikini 2,000 yen
Topless 3,000 yen
【Special Dandy Course】
60 minutes 24,000 yen
90 minutes 36,000 yen
120 minutes 48,000 yen
150 minutes 60,000 yen
180 minutes 72,000 yen
240 minutes 96,000 yen
14,000 yen for every 30 minutes of extension
Special Dandy Course Option
Blow 5,000 yen
[Dandy Hybrid Course]
60 minutes 27,000 yen
90 minutes 40,000 yen
120 minutes 53,000 yen
150 minutes 66,000 yen
180 minutes 79,000 yen
240 minutes 105,000 yen
16,000 yen for every 30 minutes of extension
Dandy Hybrid Course Option
Body wash 3,000 yen
Mutual massage 4,000 yen
[Transportation fee]
Free area City hotels, business hotels, love hotels in Shinjuku Ward
1,000 yen area Shinjuku Ward, Shibuya Ward, Toshima Ward, Bunkyo Ward, Chiyoda Ward, Minato Ward, Nakano Ward
2,000 yen area Meguro Ward, Shinagawa Ward, Chuo Ward, Suginami Ward, Nerima Ward, Itabashi Ward, Kita Ward
3,000 yen area Setagaya Ward, Ota Ward, Koto Ward, Taito Ward, Arakawa Ward, Sumida Ward, Musashino City, Mitaka City, Wako City
4,000 yen area Edogawa Ward, Katsushika Ward, Adachi Ward, Nishi Tokyo City, Chofu City, Komae City, Kodaira City, Koganei City, Kokubunji City, Asagiri City, Toda City, Warabi City
Areas over 5,000 yen Higashikurume City, Kiyose City, Higashimurayama City, Higashiyamato City, Fuchu City, Kunitachi City, Tachikawa City, Niiza City, Tokorozawa City, Shiki City, Fujimi City, Kawaguchi City, Soka City, Yashio City, Misato City・Kawasaki City/Yokohama City
[Cancellation and change of female]
Changes for women and cancellations due to urgent business are possible before arriving at the place of use.
Please refrain from canceling after meeting with the woman.
In that case, we will charge 10,000 yen as a cancellation fee.
In addition, additional transportation expenses will be charged separately for changes.
[About credit card payment]
We accept VISA MASTER JCB American Express Dinress payment.
The handling of personal information is managed by another lane company, a payment agency service, and we do not acquire or manage it at all, so you can use it with confidence.
Please also read the following points.
◆You cannot use cards other than those in your name.
◆Cards issued overseas may not be used.
◆If you wish to use a credit card, please be sure to tell us that you will use a credit card when making a reservation.
◆ The billing name from the card company will be the notation of the payment agency.
◆Prepaid credit cards and debit cards are also available.
◆ When using a credit card, only one payment is accepted.
◆ Receipt can be issued.
[Request from our shop]
The following persons are prohibited from using our shop.
■ Persons under the age of 18
■ Venereal diseases, infectious diseases, blood diseases, or those suspected of having such diseases
■A member of an organized crime group, or a similar person, or a person with a tattoo
■Those who are heavily intoxicated or using illegal drugs
Request from our store for fun play
■Be sure to take a shower with a woman before playing so that you can enjoy it cleanly.
■Please cut her fingernails before playing as it may hurt her body.
【Terms of Service】
■ Production act / request / negotiation / coercion
■ Voyeurism and eavesdropping using hidden cameras, mobile phones with cameras, etc.
■ Use of peers, withdrawal (scouting)
■ Delivery of money and goods between individuals
■ Acts of violence, abusive language, and shouting
■ Using and taking drugs, drugs, and illegal herbs
■ Acts that may interfere with a woman's body, such as SM acts and perverted acts
■Deliberately staining costumes and clothing
■ Acts of exchanging contact information with women, inviting women to go out on dates
■ Use in unsanitary places, where baths and showers cannot be used
■ Use of customer-owned play tools
■ Entering the room for people other than the customer who will be using it, and using it with multiple people
■Other acts that women dislike
If you do not comply with the above items, or if the act is discovered, we will immediately suspend the service and refuse to use it in the future.
In addition, if our shop determines that it is malicious, we will report and accompany you to the local police station, present and disclose your ID, work place, and contact information of your relatives as a claim for damages, and we will charge you 2 million yen.
In addition, we will not respond to any refund or objection of the usage fee at that time.
At the time of booking, you agree to and apply the above terms and conditions.