ODIN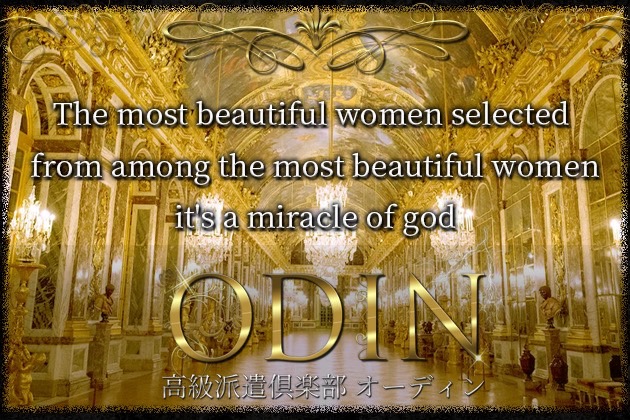 Coupon
Mention about「Tokyo Erotic Guide」!
3,000 yen discount
INFORMATION
Based in Roppongi, a city where Japan's finest gather, we have carefully selected and collected only the finest women.
Determining the finest women is the same as identifying the finest jewels. Only those who know the real thing will arrive. We have a large number of women with the highest level of selective eyes who can truly satisfy you.
Pursuing a thorough service level, there is no boundary between mind and body, aiming to provide healing and pleasure in the true sense "ODIN" started and became the famous No. 1 shop in Tokyo. I was.
We carefully select and hire women with the highest level of industry history, the highest quality, and attractive backgrounds by utilizing our club's affiliated production relationships and our own network.
As a high-end delivery health store with celebrities, talents, models, race queens, event companions, CAs, secretaries, receptionists, famous AV actresses, etc. We introduce real women.
There is also a female who is proficient in English, so it can be used for entertaining special guests from overseas.
Highest quality, unwavering brilliance, shocking encounters, and deep dream-like moments for you. . .
By all means, please experience the quality unique to a high-end delivery health store at "ODIN".
We will guide you to the 23 wards of Tokyo, such as Aoyama, Ebisu, Shibuya, Shinagawa, Shinjuku, Ginza, and the surrounding areas, centering on Roppongi.
Please contact us by LINE, WhatsApp, WeChat, Skype, Mail with the name of the woman, class, desired time and place.
We will deliver to your home or hotel.
If you have any questions, please contact us.
【Tel】03-4400-9715 / +81-3-4400-9715
【Whatsapp】+8170-8335-5569
【Skype】live:.cid.f96fee1bd7e68e70
【Wechat】wxid_yluvy69xir2512
【LINE】club-odin
【Hours】17:00pm – 4:00am
【E-MAIL】info@club-odin.com