HISHO IINKAI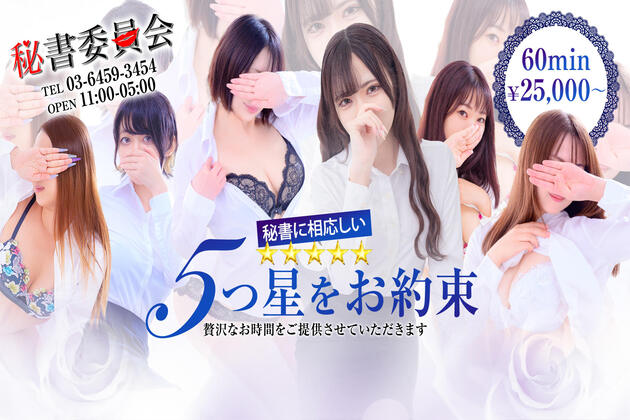 Coupon
Mention about「Tokyo Erotic Guide」
[Special treatment campaign for new customers]
70 minutes total 25,000 yen including transportation expenses
100 minutes Total 36,000 yen Transportation expenses included
We carefully select human resources who are satisfied with our customers not only in their appearance but also in their caring and behavior.
We will deliver healing and vitality for tomorrow by women who respect the men who fight every day and take pleasure in serving them.
We believe that such assistance is the mission of the Secretariat Committee.
We want you to experience our ideas, so we have prepared a special plan that includes course fees and transportation expenses.
Please enjoy a blissful time that makes your heart flutter with healing and peace.
[3P course! Special discount campaign! ! ]
60 minutes course
50,000 yen → Total 45,000 yen 5,000 yen OFF including transportation expenses!
90 minutes course
72,000 yen → Total 65,000 yen 7,000 yen OFF including transportation expenses! !
120 minutes course
94,000 yen → Total 85,000 yen Transportation expenses included 9,000 yen OFF! ! !
A dream of men!
The Secretariat Committee delivers the ultimate sense of fulfillment, satisfaction, and accomplishment! !
Please enjoy all the play with W, such as double blowjob from two beautiful secretaries, double fingering, face sitting + sumata.
Also, isn't it fun to watch secretaries interact beautifully?
How to enjoy, infinity, no script, please spend the supreme time returning to your instincts.
Regardless of whether you are a new customer or a repeater, you can use it as many times as you like.
We also accept orders for 3 or more secretaries for courses of 150 minutes or more.
Please contact us by phone.
If you want to enjoy 3P, we recommend a secretary who carefully selects both appearance and inside.
Please take this opportunity to order the [Secretary Committee] "Three Tomoe with a beautiful secretary" campaign.
INFORMATION
[Standard course]
60 minutes ¥18,000
90 minutes ¥26,000
120 minutes ¥34,000
150 minutes ¥42,000
180 minutes ¥50,000
15 minutes extension 6,000 yen
[High class course]
60 minutes ¥25,000
90 minutes ¥36,000
120 minutes ¥47,000
150 minutes ¥58,000
180 minutes ¥69,000
15 minutes extension 8,000 yen
【Service contents】
It varies slightly depending on the secretary
・Deep kiss・Blowjob・69・Ball licking・Whole body lip・Intercrural sex
・Titty fuck, verbal abuse, cum shot in mouth, finger insertion
[Entertainment/date standard course]
60 minutes ¥10,000
90 minutes ¥15,000
120 minutes ¥20,000
[Entertainment / date high class course]
60 minutes ¥15,000
90 minutes ¥22,000
120 minutes ¥29,000
【Service contents】
Please contact us for more than 120 minutes.
You can enjoy drinks and meals with your designated secretary.
[Transportation fee]
Hotel in Tokyo 23 wards 1,000 yen
Home in Tokyo 23 wards 2,000 yen
Hotels outside the 23 wards of Tokyo: from 3,000 yen
Home outside the 23 wards of Tokyo 4,000 yen
[Admission fee, nomination fee, etc.]
Enrollment fee: 2,000 yen
Nomination 2,000 yen
Nomination 3,000 yen
Cancellation: 10,000 yen
[Cancellation and change of female]
Changes for women and cancellations due to urgent business are possible before arriving at the place of use.
Please refrain from canceling after meeting with the woman.
In that case, we will charge 10,000 yen as a cancellation fee.
In addition, transportation expenses will be charged separately for changes.
[Request from our shop]
The following persons are prohibited from using our shop.
■ Persons under the age of 18
■ Venereal diseases, infectious diseases, blood diseases, or those suspected of having such diseases
■A member of an organized crime group, or a similar person, or a person with a tattoo
■Those who are heavily intoxicated or using illegal drugs
Request from our store for fun play
■Be sure to take a shower with a woman before playing so that you can enjoy it cleanly.
■Please cut her fingernails before playing as it may hurt her body.
【Terms of Service】
■ Production act, request/negotiation/coercion of production act
■ Voyeurism and eavesdropping using hidden cameras, mobile phones with cameras, etc.
■ Use of peers, withdrawal (scouting)
■ Delivery of money and goods between individuals
■ Acts of violence, abusive language, and shouting
■ Using and taking drugs, drugs, and illegal herbs
■ Acts that may interfere with a woman's body, such as SM acts and perverted acts
■Deliberately staining costumes and clothing
■ Acts of exchanging contact information with women, inviting women to go out on dates
■ Use in unsanitary places, where baths and showers cannot be used
■ Use of customer-owned play tools
■ Entering the room for people other than the customer who will be using it, and using it with multiple people
■Other acts that women dislike
If you do not comply with the above items, or if the act is discovered, we will immediately suspend the service and refuse to use it in the future.
In addition, if our shop determines that it is malicious, we will report it to the local police station, accompany you, and claim 2 million yen as compensation for damages.
In addition, we will not respond to any refund of the usage fee at that time.
Please understand and acknowledge the above contents in advance.