MUSOU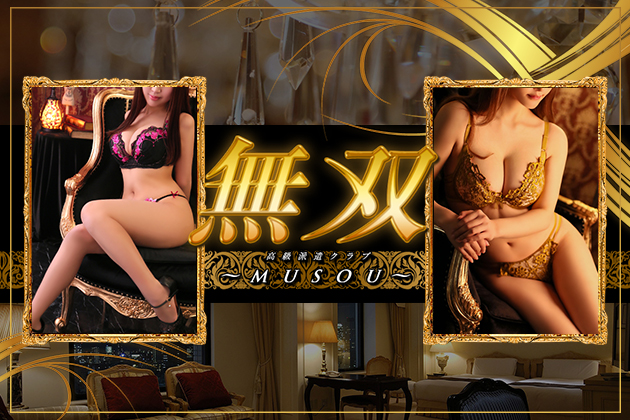 Coupon
You can get discount by telling "I saw Tokyo Erotic Guide" for…
60 minutes course 50,000 yen!
INFORMATION
Free admission fee
Free Internet nomination fee
Real appointment 5,000 yen
Options Please tell us your desired options by phone.
[Transportation expenses]
Transportation costs in the 23 wards are uniformly 3,000 yen.
Please contact us for other areas.
[Notes and prohibited items]
Since there is no transfer etc. at our shop, you can not change or cancel if you nominate.
It is very crowded depending on the day of the week and time, so we recommend that you make a reservation in advance.
To cancel the reservation, you will be charged the full amount of the usage fee (the full amount of the play fee transportation fee).
If the reservation is canceled without permission, a cancellation fee will be charged at a later date.
Pay for it. be careful.
▼ Use of the following is strictly prohibited.
Our store is a store-free customs special sales report store.
We are committed to providing friendly, healthy and safe sales so that customers can use our products with peace of mind.
Therefore, please refrain from the use of customers who cannot observe the following precautions and prohibited matters.
・ Under 18 years old (high school student)
・ Exercise / negotiations / actions / requests of production actions or similar statements. Compulsion other than service content.
・ Illegal drug or drug abuser * If it is detected, it will be reported to the relevant police station through administrative guidance.
・ Scout acts and remarks (fine 3 million yen)
・ Violence or compulsion to companions.
・ Those who are photographed, recorded, or eavesdropped on devices such as cameras, mobile phones, and recorders (fine ¥ 1 million or more)
・ Use by multiple people in one room.
・ Use in unhygienic places and rooms where baths and showers are not available.
・ Stalker act to companion and act equivalent to it.
・ If you are invited or invited to a companion that does not mediate our store.
・ The act of using play tools, etc. owned by the customer.
・ If you move to a place where you cannot contact the companion.
・ Those with or suspected of having a sexually transmitted disease.
・ Restraining the companion even after the end of the usage hours, and acting in accordance with it.
・ Drunk people, gangsters, or equivalent.
・ Change or cancellation after the companion undresses or touches the body.
・ Those who are treated violently, such as excessive finger placement, or who scream rants that scare women.
・ Other Persons who are judged not to be able to observe the precautions and prohibited matters in the operation and sales by our staff.
If you are unable to observe the above items, we will contact you to a public institution.
Those who can not use it will be refused in the future.
If any of the above matters occur during service, the service will be cancelled.
In that case, no refund will be accepted.
In addition, please note that we will claim compensation for damages caused by applicable matters.
If we determine that the above prohibition applies, we will immediately stop the service.
In that case, we will not accept any refund.
If it is determined to be malicious, we will refuse any use after reporting to the police in charge.
REVIEWS